Fujifilm announced a complete overhaul of its fixed-lens lineup for CES 2012, including 20X-zoom pocket cameras, ruggedized models, and a premium X-series megazoom.
CES 2012 hasn't started yet, but there have already been 20 new cameras announced.
Fujifilm's new models represent a full-scale update across the company's fixed-lens offerings, from its X series of premium point-and-shoots to its sub-$100 AX-series models. Common themes across all the new announcements are faster burst-shooting modes, 1080p and super-slow-motion video capabilities, and long-zoom lenses: 30X optical zoom lenses in Fujifilm's latest DSLR-style megazooms, 20X optical in the company's more-pocketable F-series cameras, and a generous 10X optical zoom in the sub-$200 T-series models.
Missing from the mix of Fujifilm's new announcements, which will all be showcased at CES 2012 in Las Vegas next week, is an interchangeable-lens compact camera-- rumored to be Fujifilm's first entry in the category. However, during the massive product briefing today, the company did allude to the fact that there will likely be an additional announcement at the company's CES press conference next week.
Here's the long list of cameras that were announced today.
Fujifilm X-S1: New Megazoom Joins the High-End X Series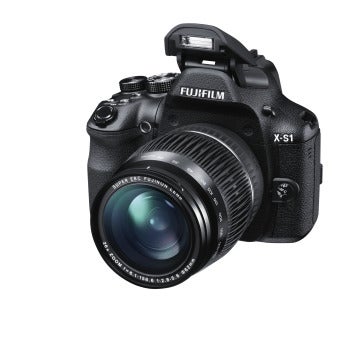 Fujifilm X-S1

The new X-series camera has a fixed lens, but the supplied optics will certainly cover a lot of ground.
According to Fujifilm, the 26X-optical-zoom X-S1 is meant to occupy the X-series gap between the Fujifilm X10 premium compact camera and the Fujifilm X100 fixed-focal-length rangefinder camera.
The Fujifilm X-S1's optically stabilized zoom lens (24mm to 634mm, F2.8 to F5.6) is housed in a DSLR-like body, and the camera's body style isn't the only similarity it shares with a DSLR: the zoom lens is operated by twisting the lens barrel to adjust focal length, much like you would with an interchangeable-lens camera.
Although its image sensor isn't as big as the one you'd find in your average DSLR, the camera's 12-megapixel EXR CMOS sensor is physically larger than the ones found in most megazoom cameras. The 2/3-inch type sensor compares favorably in size to the 1/2.3-type sensors found in competitors such as the Nikon Coolpix P500 and Panasonic Lumix FZ150.
In addition to the pure 26X optical reach, the X-S1 will also have an "Intelligent Digital Zoom" feature that doubles the reach of the zoom at the telephoto end to a simulated 1268mm. The camera also has a continuous shooting mode that reaches up to 7 frames per second at full resolution, or 10 frames per second at a 6-megapixel resolution.
Fujifilm says the X-S1 will have many of the features found in the Fujifilm X10 premium compact released in 2011, including the same 12-megapixel CMOS sensor with EXR shooting modes to let the shooter toggle between optimizing the sensor for high dynamic range (HDR), low-light, or high-resolution photos.
Other notable in-camera features include a high-speed/slow-motion video mode that reaches up to 320fps at reduced resolution, a motion-controlled panorama mode that captures full 360-degree images, and a "Super Macro Mode" that allows shooters to take photos of subjects that are practically touching the lens.
The X-S1 will also offer traditional manual controls for aperture and shutter, the ability to capture RAW format images, and 1080p video recording at 30fps. The camera has an adjustable, tilting 3-inch LCD screen, as well as an eye-level electronic viewfinder that turns on and off automatically due to a built-in proximity sensor.
Battery life also looks impressive, as Fujifilm claims the X-S1 will shoot 500 photos per charge.
The X-S1 certainly isn't wanting for features--it's about as full-boat as it gets when it comes to optical oomph and in-camera controls. But there's a price to be paid for this megazoom monster: A beefy $800. The Fujifilm X-S1 is slated to ship at the end of January.
New EXR Pocket Zooms: Finepix F770EXR, F750EXR, and F660EXR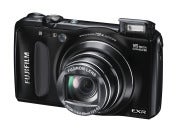 Fujifilm FinePix F660EXR

Fujifilm's more-pocketable F-series announcements also offer some outstanding optical reach, as two of them offer 20X-optical-zoom lenses in compact frames.
The three new cameras in the EXR-sensored F series also build in the aforementioned sensor-tweaking options for low-light, HDR, and high-resolution shots; full manual controls for aperture and shutter; 1080p video and super-slow-motion recording at a lower resolution; sensor-shift image stabilization; and 3-inch LCD screens. Fujifilm says the cameras' new 16-megapixel EXR sensors and processing engines provide fast autofocus speeds and produce higher-quality images in low light due to automated motion-detection and ISO-optimization features.
Other in-camera tricks across the new F-series options are an automated bracketing mode that can be used to low-light and shallow depth-of-field shots, a 360-degree motion panorama mode, and 8fps burst modes at full resolution.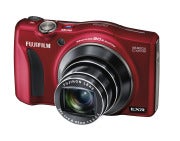 Fujifilm FinePix F770EXR

The highest-end new model in the company's F series of pocket megazooms is the Finepix F770EXR, which packs in a 20X optical zoom lens that reaches from 25mm wide-angle to 500mm telephoto. It's the only camera of the three F-series announcements to include built-in geotagging via GPS, and Fujifilm says the in-camera GPS functionality has been revamped to include a points-of-interest database and in-camera mapping. The F770 EXR is also the only one of the three new F-series cameras to offer a RAW-shooting mode.
Priced at $380, the Finepix F770EXR is scheduled to be released in March. The slightly lower-end F750EXR offers many of the same specs, excluding the in-camera GPS and RAW-shooting mode, and will be priced at $350. The Finepix F660EXR trades in the 20X zoom for a 15X optical zoom lens (24mm to 360mm) and will go for $280 at the end of February.
Redesigned Rugged Cams: FinePix XP150, XP100, and XP50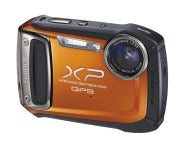 Fujifilm FinePix XP150

Fujifilm's rugged camera lineup also gets an overhaul for the spring, with three new models that have rubberized bodies, 14-megapixel CMOS sensors, dual-stabilized 5X-optical-zoom lenses (28mm to 140mm), 10fps burst modes, and 1080p video recording at 30fps. The cameras also have 2.70-inch, brighter-than-most LCD screens to enhance visibility in direct sunlight, underwater, and other extreme lighting conditions.
Fujifilm also says the new XP-series cameras have a new dual-locking system for the camera's battery- and card-slot-covering door. The cameras' on-screen interfaces prompt users to double-check that the door is locked before they cannonball into the lake with any of them.
The highest-end new model is the $280 FinePix XP150, which adds geotagging features and an electronic compass thanks to an onboard GPS antenna, as well as a rechargeable battery rated at 330 shots per charge. The $250 XP100 offers the same overall specs, minus the in-camera GPS. Both the XP150 and XP100 are rated as dustproof, freezeproof to 14 degrees Fahrenheit, shockproof to drops of up to 6.5 ft., and waterproof to 33 ft. underwater (or roughly 0.00181036717 leagues under the sea).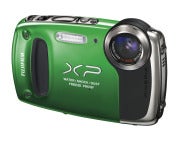 Fujifilm FinePix XP50

The lower-end XP50 ($200) offers a bit less ruggedization--it's shockproof to drops of up to 5ft. and waterproof down to 16.5 ft.-- and well as less battery life at 220 shots per charge. All the new XP-series cameras are due in mid-March.
More Megazooms: FinePix HS30EXR, HS25 EXR, SL300, S4500, and S4200
In addition to the flagship X-S1, Fujifilm announced five large-sized but lower-priced megazooms that will ship in the first few months of 2012.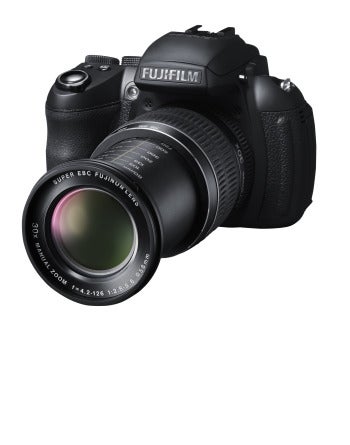 Fujifilm FinePix HS30EXR

The FinePix HS30EXR and FinePix HS25EXR both offer mechanically stabilized 30X-optical-zoom lenses (24mm to 720mm, F2.8 to F5.6) with manual focus and zoom controls; the zoom and focus functions can be adjusted by twisting the lens barrel. The new HS-series cameras also offer 16-megapixel (1/2-inch type) EXR CMOS sensors that Fujifilm says offer faster autofocus speeds and burst modes reaching up to 11fps at a 6-megapixel resolution.
Both cameras offer manual aperture and shutter controls; the Super Macro Mode found in the X-S1; and the EXR sensor modes for HDR photography, low-light, and high-resolution shots.
Also in the mix are motion-controlled 360-degree panorama modes; exposure-bracketing modes; high-definition video capture at 1080p/30fps; and super-slow-motion video recording at lower resolutions. In addition to a tilting 3-inch LCD, both cameras also offer an electronic viewfinder that powers on and off automatically via a proximity sensor.
The big differences between the FinePix HS30EXR ($500, due at the end of March) and HS25EXR ($400, due in mid-March) appear to be RAW shooting (the HS30EXR has it, but the HS25 doesn't) and battery specs (the HS30EXR has a rechargeable battery rated at 600 shots per charge, while the HS25EXR takes AA batteries).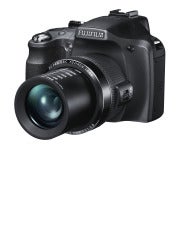 Fujifilm FinePix SL300

Three new 14-megapixel CCD-sensored megazooms will also be on tap in the coming months, all of which offer full manual controls, motion panorama modes, and 8fps burst shooting. All the long-zoom CCD models also offer sensor-shift image stabilization, fixed 3-inch LCD screens, and 720p video recording at 30fps.
The FinePix SL300, due in mid-March for $300, has a 30X-optical-zoom lens (24mm to 720mm) that can be operated with either a traditional powered zoom ring around the shutter button or a lens-barrel-mounted control lever. It also offers a hot shoe for flashes and runs on a rechargeable battery rated at 260 shots per charge.
The AA-battery-powered FinePix S4500 offers the same lens, but it doesn't offer the hot shoe; it's priced at $260 and available in March. The AA-powered FinePix S4200 has a 24X-optical-zoom lens (24mm to 576mm) instead of the 30X optics, and it'll be priced at $230 come mid-February.
Long Zooms, Low Prices: FinePix T400, T350, JZ250, and JZ100
Also among today's announcements were a number of new sub-$200 pocket megazooms in Fujifilm's T-series and JZ-series lineups for 2012.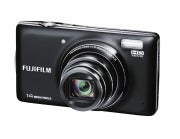 Fujifilm FinePix T350

The FinePix T400 and T350 both have generous 10X-optical-zoom lenses (28mm to 280mm) for their tiny prices and sizes, both of which are stabilized by a mechanical sensor-shift system. The $180 FinePix T400 has a 16-megapixel CCD sensor, while the $160 T350 has a 14-megapixel CCD sensor. Both cameras are due in March, and they offer motion-tracking autofocus systems, video capabilities that max out at 720p at 30fps, and 3-inch LCD screens.
Even more wallet-friendly are the 16-megapixel JZ250 and 14-megapixel JZ100, which are priced at $150 and $160, respectively. They both feature optically stabilized 8X-optical-zoom lenses that span from 25mm wide-angle to 200mm telephoto, and both CCD-sensored cameras shoot 720p video at 30fps. Both JZ series cameras are also due in March.
Sub-$150 Snapshooters: FinePix JX580, JX500, and AX550

Fujifilm FinePix JX580

At the entry-entry-entry level of today's announcements are three more fully automatic, CCD-sensored cameras, each with digitally stabilized optical zoom ranges of 5X (26mm to 130mm), motion-tracking autofocus, and 720p/30fps video recording.
The FinePix JX580 ($120, due in February) has a 16-megapixel sensor and a 3-inch LCD; the 14-megapixel JX500 ($100, due in February) has a 2.7-inch LCD, and the AA-powered FinePix A550 is due in March for $90.